,
,
,
Fighting the urge for website do-overs, Threads in EU update and getting acquainted with MarsEdit
I've been surprisingly happy in the way this site came together.
However, like it happens nearly every time after I've launched a new thing, this time was no different: I've been already thinking about doing it again from a scratch.
I shouldn't (and probably won't), but the nagging feeling is there as usual. Other direction for the layout, maybe some other platform even (hey, how's WordPress nowadays?!), chasing the next shiny thing. Oh yeah.. that pattern of thought. Any pointers on escaping the feeling, anyone?
Well, as it turns out, I'm not the only one who feels this way. Hurrah! 😄
In other news, the Threads EU ban is still on
When Threads launched in July, I was able to slip in through the gates and use the platform for a while via VPN. But very soon after, they stopped users in the EU region in their tracks.
My account was no different. There are few things that work (I see the main feed and can like and rethread things, but that's about it). I can't post anything, comment or even see my own feed. The experience is badly crippled.
In a story published on Instagram few weeks ago, Adam Mosseri (head of Instagram) mentioned that it will probably take many months before Threads is fully launched in Europe.
That sucks, but it is what it is. I hope they'll be able to get a proper desktop (web) version out in the meantime at least. At the moment, you can browse conversations via web too, but can't interact with them. According to Insider.com, Threads for web should be launching this week. We'll see!
Having said that, if you're on Threads, find me here. I'll be there too.. when I finally can.
Also, getting my feet wet with MarsEdit
This is the first article I'm writing with MarsEdit and I love it!
If you haven't heard about it before, don't worry, I wasn't aware of it either until recently. I found out about it while watching this presentation by [@Miraz](https://micro.blog/Miraz) from this years Micro Camp.
I'm especially fond of the split screen editing feature, which allows me see how the article is shaping up in the site template itself in real-time. This is the way! :)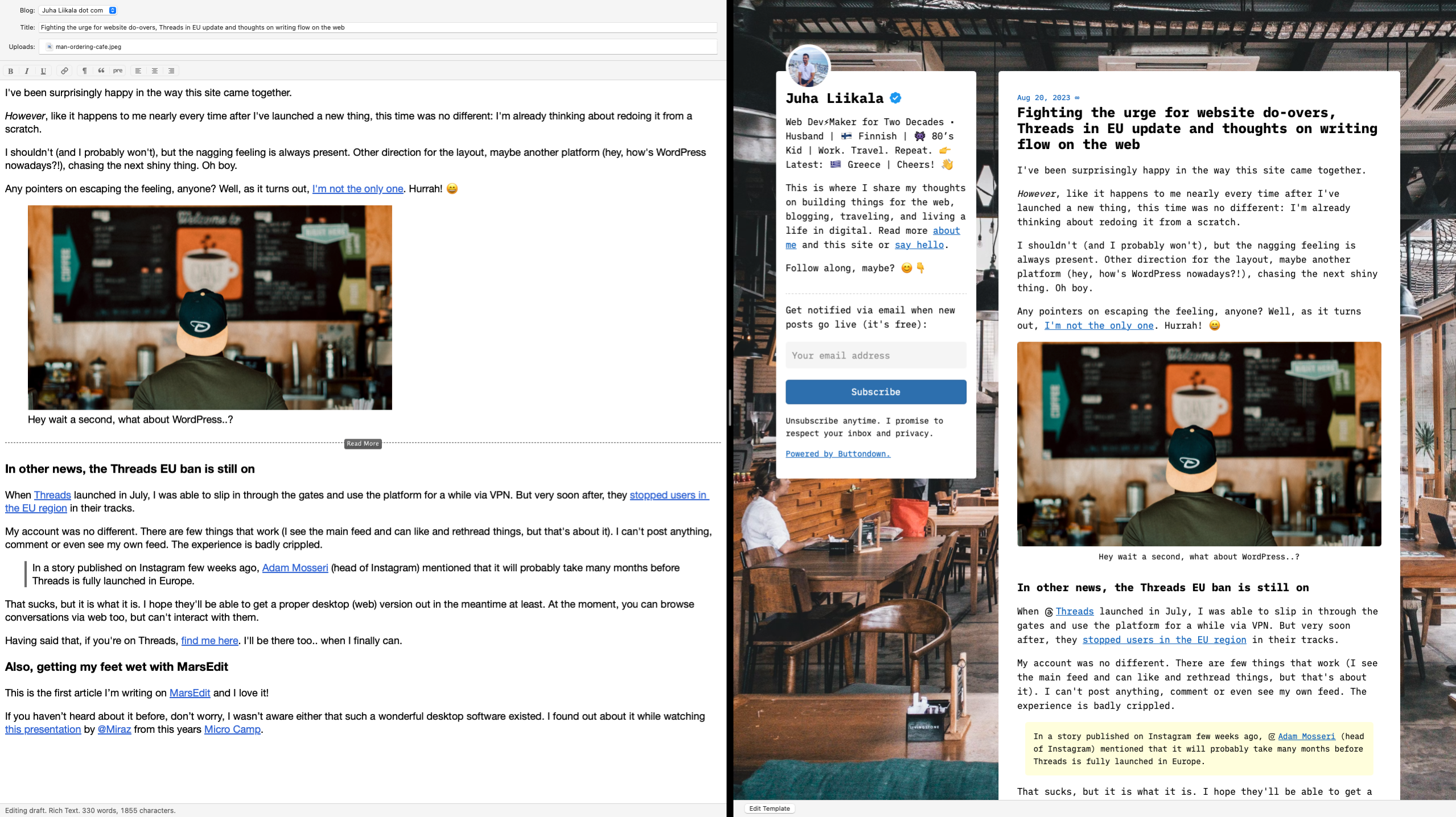 MarsEdit is free to download, but if you intend to use it properly, you need a license which costs $59.95. Well worth the price if you ask me.
Oh, one more thing
Since the last newsletter I sent, I've now switched back to using Buttondown. I was using micro.blog's built-in newsletter feature previously, but felt I just want bit more control over how the emails look. Plus, I've used Buttondown before in my earlier blogs, so it felt just right.
While on the topic, I'm also keeping my eye on Sendy. Might be another alternative to try at some point. I believe Jason Kottke is using it for his newsletter, so can't be too bad..
--
Ok, that's all this time. I hope to see you again when the next article hits the interwebs. Have a wonderful week all! 👋
Monday August 21, 2023